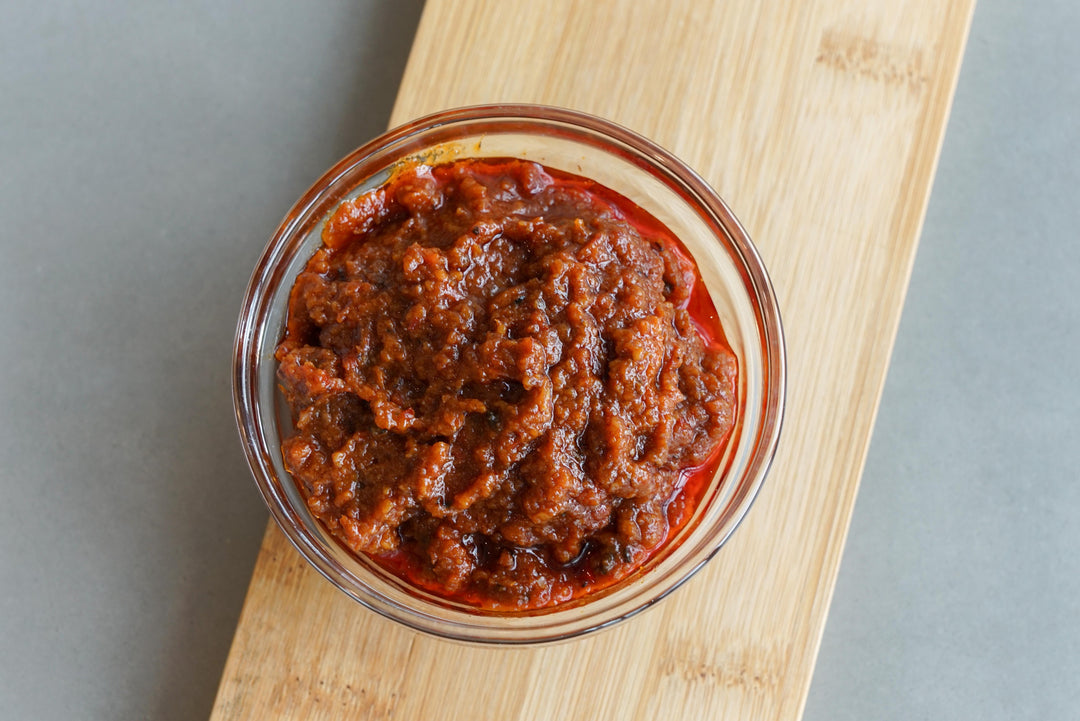 Sambal Chilli
Regular price
$4.00
/
Tax included.
Shipping
calculated at checkout.
---
Cooking our own Sambal Chilli also means that we know the taste buds of our customers – from the mild chilli lovers to super adventurous ones who love "extra spicy" Popiah! Yes, we're always ready to let them have it their way.
At Fortune Food, creating our own Sambal Chilli means not only providing a delectable condiment but also catering to the diverse preferences and taste buds of our valued customers. We understand that each individual has their own unique spice tolerance and flavour preferences.
For those who prefer a milder kick, our Sambal Chilli offers a delightful balance of flavours, infusing the dish with a gentle warmth that tantalises the taste buds without overpowering the other ingredients. It adds a subtle hint of spice, enhancing the overall taste experience while allowing the other flavours to shine through.
On the other end of the spectrum, we welcome the daring and adventurous souls who crave an extra spicy sensation. For these heat-seeking enthusiasts, our "extra spicy" Sambal Chilli takes the heat to new heights, delivering a tantalising burst of intense spice that will leave their taste buds tingling and their senses fully awakened.
We take pride in accommodating the unique preferences of our customers, ensuring that everyone can enjoy their Popiah just the way they like it. Whether it's a mild touch of spice or a fiery explosion of flavour, we are dedicated to satisfying even the most adventurous palates.
So, whether you're a mild chilli lover seeking a subtle kick or a heat connoisseur in search of an intense experience, Fortune Food's Sambal Chilli is here to ignite your taste buds and elevate your Popiah to new heights. We believe that food should be a personalised and enjoyable experience, and with our customisable Sambal Chilli, we are always ready to let our customers have it their way.
Gather your family, friends and children, and have fun!
Not only does the DIY aspect enhance the taste experience, but it also provides a sense of accomplishment and pride for individuals of all ages, including children. You become the creator of your own popiah, a culinary artist who can experiment, innovate, and discover flavor combinations that bring you immense satisfaction. It's a hands-on experience that not only elevates the joy of eating to a whole new level but also creates a fun and engaging activity that children can enjoy. With adult supervision, kids can participate in rolling and assembling their own popiah, fostering their creativity and teaching them about different ingredients and flavors. This interactive and educational experience allows families to bond over food and creates lasting memories. Whether you're a seasoned cook or a novice in the kitchen, the DIY nature of popiah-making ensures that everyone can partake in the fun and deliciousness of creating their own culinary masterpiece.